Your Mouth Tells You If You Need to Improve Your Brushing Technique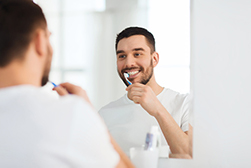 Oral hygiene is crucial for a healthy mouth and overall health. This practice comprises routine brushing and flossing with the correct tools and technique. However, the wrong brushing technique will not clear food debris from your mouth, resulting in plaque formation. Plaque accumulation will then cause gum disease and tooth decay over time due to the build-up of harmful mouth bacteria in your mouth.


Gum Disease

Gum disease results from plaque build-up around your gum line. The plaque will cause gum inflammation making them red, swollen, and more likely to bleed. To prevent this accumulation, embrace the correct brushing technique. To clean your gum line, tilt your toothbrush at a 45-degree angle and gently brush around your gums. You should also floss to remove food debris and plaque that may host gum disease bacteria between your teeth.


Tooth Decay

The teeth have an outer protective layer, the enamel, which protects the inner tooth from decay and infection. Using the wrong brushing technique will result in the accumulation of plaque on your enamel. The bacteria in plaque will then feed on sugars in the mouth and release acids, which wear out the enamel and cause teeth cavities. Therefore, brushing your teeth with the right technique is necessary to keep teeth cavities at bay.


The Right Brushing Technique

To keep gum disease and tooth cavities at bay, you should brush your teeth at least twice a day with fluoride toothpaste. While doing this, use minimal pressure to scrub your teeth to prevent damaging your enamel. You should brush your teeth for at least two minutes, also paying attention to cleaning your gums and tongue to ensure you remove most of the mouth bacteria. After brushing your teeth, use dental floss to remove food debris between your teeth to prevent cavities. Finally, you should schedule regular cleanings twice a year to remove accumulated plaque. For more details on brushing techniques, contact our office today.