Dental Implants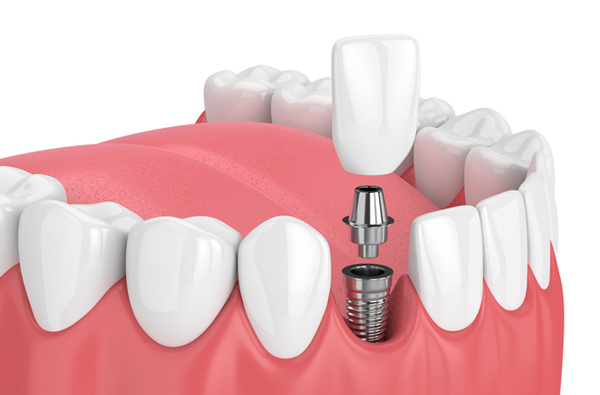 Have you or a loved one lost one or multiple teeth, but currently lack enough information about implants? Then you've come to the right place. Here at Lakewood Dental Arts, we work to make certain that potential future visitors are well informed on everything they need to make an educated decision. Here are some answers to some of the most frequently asked about dental implant topics.

For any further questions you may have about implants or to schedule a consultation with our doctor, please call to make an appointment today at (562) 384-1091.


What is a Dental Implant?

Tooth implants are substitutes for missing teeth. They are made of medical grade titanium and are designed to encourage bone formation. A typical implant is made of the following three components:

| | |
| --- | --- |
| • | The Fixture is the part of the implant that is embedded in and becomes fused with the jawbone. It is the portion that lies below the gum line and for all practical purposes can be considered to be an artificial root. |
| • | The Abutment is the portion of a tooth implant that lies at and above the gum line. It is the part that supports and secures the dental work (crown, bridge, denture) that is placed on it. |
| • | An Implant Restoration refers to the dental work that sits on top of the abutment. Depending upon its design, it may be cemented or screwed (i.e. crowns, bridgework), or else clipped or snapped (i.e. dentures), into place. It looks and functions like a real tooth |
What is an Implant Made From?

It is made up of a metal (usually titanium) post. With the crown positioned on top. Together, these pieces create a strong foundation.


What Makes Me a Good Candidate for Implants?

Once a decision has been made that dental implants will be considered as a treatment option, the dentist must make a determination about the patient's suitability for them. Factors that must be evaluated include: The patient's health (medical conditions, medicines, age), patient habits (smoking, tooth grinding, poor oral hygiene), jawbone quantity and quality. A bone graft may be indicated prior to placement of an implant.


Can You Get Implants If You Already Have Dentures?

Yes, you can. Implants can be placed to keep your surrounding bone together and prevent ridges from flattening.


What are the Steps for Implant Placement?
| | |
| --- | --- |
| • | Sedation options will be reviewed as your comfort will always be our top priority. The target-area is numbed using a local anesthetic. |
| • | A small incision will be made in the gums to allow access to your jawbone. |
| • | The implant fixture will then be placed and the gums will be sutured closed around the fixture. In most cases the healing abutment will be placed prior to the sutures. |
| • | Healing may take 10-12 weeks during which time you will have follow-up appointments to check the progress of your implants and make sure they are integrating properly. |
| • | An impression will be taken of your mouth and sent to the lab to begin constructing permanent custom implant restoration. Once completed, your restoration will be placed. |
How Do I Care for My Implant?

Regular at-home dental hygiene is crucial to help implants last, both at home and through annual professional cleanings. It's generally recommended that you come back for an exam and dental cleaning every six months, during which your implants will be checked.


Learn More About Replacing Your Teeth:


Remember, for any questions not covered here or to schedule an appointment, please call Lakewood Dental Arts today at (562) 384-1091.