Orthodontics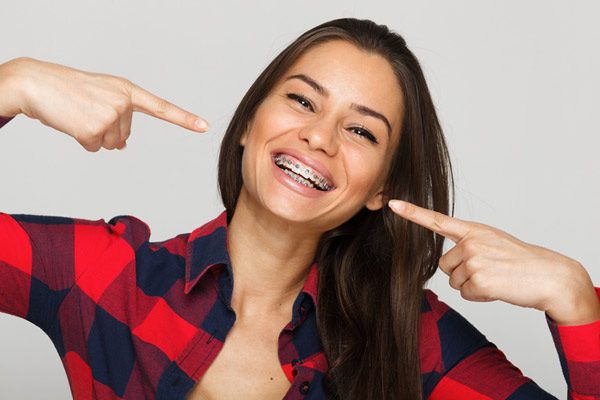 Some people have naturally straight teeth that fit together. But if you have problems with your bite or the spacing of your teeth, you may need orthodontic care. Orthodontia is a type of dental service that deals with abnormalities of the teeth and jaw.

All licensed orthodontists are technically dentists but all dentists are not orthodontists.

If you or a loved one have any further questions that are not answered below, please feel free to give us a call and schedule a consultation today at (562) 384-1091.


What Is Orthodontics?

Orthodontics is a specialty of dentistry with the goal of preventing, diagnosing, and treating facial or oral abnormalities. It focuses on your bite and the alignment of your teeth. Orthodontic care can consist of the use of traditional braces or Invisalign.


Different Type of Orthdontics
Traditional/Metal Braces:

These are the metal brackets and wires that most people picture when they hear the word "braces." Metal braces are made of high-quality, durable stainless steel and their brackets are bonded to the front of a patient's teeth. An arch wire runs through these brackets, which helps guide the teeth into proper alignment as the wire is tightened. Modern metal braces are smaller, more comfortable, and more aesthetically pleasing than braces of the past.

Because of the brackets and wires, special care must be taken when eating and cleaning traditional braces. Certain foods, such as hard, crunchy, and sticky foods will need to be avoided during the duration of your orthodontic treatment in order to avoid potential damage to the wires or brackets. It's also important to thoroughly clean around brackets and under the wire since food particles will be more prone to getting stuck.


Ceramic Braces:

Ceramic braces are similar in size and shape as metal braces, but with one clear difference – the brackets are made of tooth-colored ceramic instead of metal. This allows the patient to have a more discreet orthodontic treatment experience. This type of braces is very popular amongst adults for its cosmetic appeal.

Besides requiring the same extra care with eating and cleaning as traditional metal braces, some downsides to ceramic braces are that they're a little more fragile than metal braces and the elastic ties tend to discolor between orthodontic visits. However, this is a trade-off many are willing to make for the aesthetic appeal.


Invisalign®

Invisalign uses clear, removable aligner trays to help with tooth realignment, unlike traditional braces that use brackets and wires to shift a patient's teeth. Invisalign offers the most discreet treatment possible since the aligners are virtually invisible to others. Invisalign also provides a much more comfortable treatment experience.

Aside from comfort, convenience is another big factor for patients who choose Invisalign. Since the Invisalign aligner trays are removed when eating, patients can still enjoy the same foods they always have without the risk of damage that comes with metal and ceramic braces. It also makes oral hygiene much simpler, as there are no wires or brackets to clean around.

Invisalign is not suitable for all patients, however, so it is important to schedule a consultation with your Invisalign specialist at Lakewood Dental Arts to discuss if you are a good candidate.


What is the Difference Between a Dentist and an Orthodontist?

Orthodontists and dentists both help patients improve their oral health, but in different ways. Dentistry is a broad medical specialty that deals with the teeth, gum, nerves, and jaw, while orthodontics is a specialty within dentistry that focuses on correcting bites, occlusion, and the straightness of teeth.


Why Should I Get Orthodontic Treatment?

Teeth that become crowded or move out of position are harder to properly clean, which in turn makes it more difficult to keep a beautiful, healthy smile. Bite problems may lead to your teeth's surface being worn down.


What is the Appropriate Age to See an Orthodontist?

Nobody is too old to take advantage of orthodontics. Orthodontists may treat patients of any age-range. It is usually recommended that children have their first orthodontic visit around age seven. Around this time, we can detect issues with jaw growth and erupting teeth while some baby teeth remain. The majority start between ages 9-14, but treatment is not exclusive to kids and teenagers. One out of every four orthodontic patients is over 21. If you are considering treatment for yourself or your child, both are equally welcome for an appointment.


Do I Need a Referral from My Dentist to Make an Appointment with an Orthodontist?

No, it is not mandatory to request a referral prior to seeking orthodontic treatment. However, a comprehensive dental exam, cleaning and completed restorations by a licensed general dentist may be required prior to starting treatment.


Can My Child Get Orthodontic Correctional Treatment with Baby Teeth?

Yes, some children's orthodontic abnormalities are advanced enough to justify early intervention. In cases where a patient is deemed not ready for treatment, we will instead monitor that child's growth and development until a more appropriate time to begin treatment.


What Happens During an Initial Exam?

The doctor will be begin with a brief yet thorough exam evaluating the alignment of your teeth and jaw. Treatment options such as traditional braces or Invisalign. Length of treatment varies on an individual basis.


Do Braces Hurt?

Luckily, orthodontic science has made significant strides in just the past few years. Modern technologies allow us to correct a patient's teeth with gentler force over a much shorter time period. Today's braces are smaller, more comfortable, and do not take nearly as long to apply. Some soreness in your teeth can be expected for a few days after braces are first bonded and after all future adjustments. While necessary, this is generally painless, and any discomfort can be easily managed.


Learn More About Straightening Your Teeth:


Remember, if you have any more questions about orthodontic treatment, call (562) 384-1091.