Teeth Whitening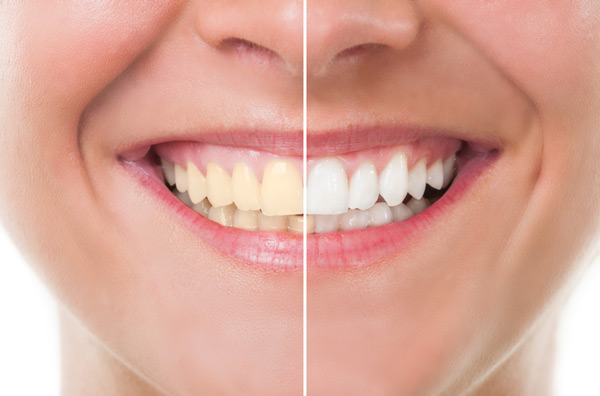 Ideally, everyone deserves a beautiful, healthy white smile. Unfortunately, in reality, most people don't maintain regular at-home oral hygiene as well as they could, which often leads to decay, damage, teeth moving out of alignment, gum disease, and stains. In cosmetic dentistry, there are ways our team at Lakewood Dental Arts can overcome these obstacles and offer patients teeth whitening opportunities that help them keep the look of a bright, pearly grin.

The popular response for people in such cases is teeth whitening. Numerous approaches are available to do this, including cost-effective whitening toothpastes that erase most stains to whitening strips you place on your teeth for an instructed period and even light-activated methods that provide immediately noticeable results. If you or a loved one are wondering if teeth whitening is right for you and wish to discuss your options, please call Lakewood Dental Arts today at (562) 384-1091.


Types of Tooth Stains

There are two different classes of stains: Extrinsic and intrinsic. The extrinsic are easily noticeable on the surface of your teeth. Intrinsic stains are more hidden, found within the tiny cracks of enamel and deep inside our dentin (the layer beneath enamel). While extrinsic stains are usually manageable enough with regular dental hygiene, some are too deep or complex to fully eliminate with standard dental cleanings. Intrinsic stains are tougher still, being harder to see, and can lead to discoloration of your teeth.


What's the difference between whitening and bleaching?

According to the FDA, the term "bleaching" is permitted for products that can whiten teeth beyond their natural color. This applies to products that have active ingredients such as hydrogen peroxide or carbamide peroxide.

On the other hand, the term "whitening" is used to describe the process of restoring teeth to their natural color by removing stains and debris from the tooth's surface. Whiteners include cleaning agents such as mouth rinses and toothpaste. Since "whitening" sounds more pleasant, most "bleaching" products with active ingredients are marketed with the term "whitening."


How Bleaching Works

Bleaching (whitening) products contain an active ingredient called hydrogen peroxide or carbamide peroxide. Whitening activates the peroxides to release oxygen molecules that enter the enamel micro-fractures to break down stain pigmentation. This release of oxygen can occur over time or rapidly. Custom take-home whitening treatments stimulate the release of oxygen over a period of a few hours.

Laser whitening, such as Zoom, causes the rapid release of oxygen within a few minutes. This is accomplished by using a high-intensity light source. The main side effect of bleaching is temporary tooth sensitivity to cold. This is because the micro-fractures and your natural enamel pores are open during treatment. These micro-fractures and pores will re-mineralize over time.

A prescription fluoride toothpaste can help reduce sensitivity by accelerating this re-mineralization process.


Custom Take Home Whitening

Take home bleaching involves a custom dental bleaching tray that will administer optimal amounts of bleaching material over the specific teeth to be whitened. A model is made of your teeth and a filler gel is painted over the teeth targeted for whitening on this model. The amount is specific to the location and angulations of your teeth. A custom bleaching tray is then created using your mold. You typically wear trays at night for 2-3 hours for 1-2 weeks.

One of the strengths of custom take-home bleaching is that you control the amount of time and concentration of the bleaching treatment, which can reduce tooth sensitivity. Another bonus is the trays created for you can be used multiple times with minimal cost. You will only need to purchase inexpensive bleaching refills.


ZOOM Laser Bleaching

Zoom laser bleaching uses a clinical strength hydrogen peroxide light-activated gel to achieve rapid and powerful whitening results. The light activated material is painted directly onto your teeth.

Again, the amount and location of its administration are customized to your teeth. A powerful ultraviolet (UV) laser lamp is used to activate the whitening material to release oxygen. Typically, the treatment takes 1-2 hours and you walk out of the dental office with a whiter natural smile.


What's The Difference Between Professional Dental Bleaching and Over-The-Counter Bleaching Kits

Over-the-counter whitening kits are not customized to your teeth. Your teeth have many different angulations, shades of color, and dental fillings/crowns that don't respond to the over-the-counter bleaching kits. Whitening strips and paint-on kits have lower concentrations of active ingredients and are not applied uniformly. All brands of whitening toothpaste utilize mild abrasion to erase surface-level stains in between dental appointments. Specialized chemical or polishing agents make for more thorough stain removal.

Professional cleanings use these same abrasion and polishing agents, which are a most efficient deterrent against discoloration from food or tobacco. Therefore, results may be inconsistent. Professional dental bleaching treatments contain higher concentrations and the amount administered is specific to your individual smile.


How Long Will Whitening Results Last?

Whitening treatments help to reduce existing stains, but consuming coffee and pigmented foods, smoking, and just natural aging may eventually lead to discoloration again. We typically see results that last for 8-24 months. If you avoid foods and drinks that stain your teeth and follow proper dental maintenance, you can expect your teeth to stay lighter for an even longer period of time.


Conclusion

To determine the best course of action when it comes to whitening your teeth, visit us at Lakewood Dental Arts and our experienced team will find the perfect solution.

To achieve a sparkling smile in a comfortable, welcoming atmosphere, call (562) 384-1091 to schedule your appointment.