Mouth Guards and Sleep Apnea Lakewood CA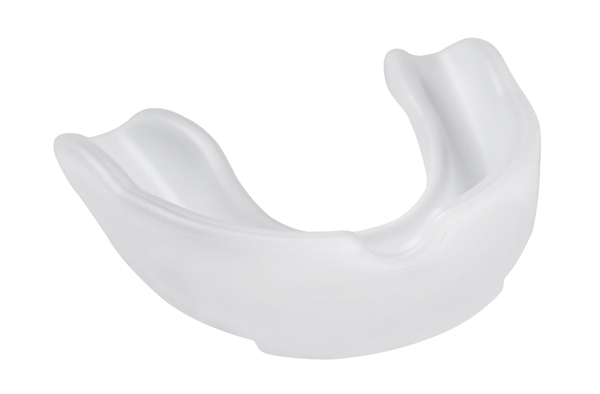 If you often wake-up with jaw pain, earaches, or headaches, or if you find yourself clenching or grinding your teeth, you may have a common condition called bruxism. Preventing dental injuries that are common in contact sports and recreational activities, is essential to keeping your teeth healthy. Some sleep related breathing disorders can be treated with an oral device. Mouthguards can have a variety of benefits. Choosing the right oral appliance is essential.

Lakewood Dental Arts is committed to providing not only general dental treatments and braces, but also treatments to help bring ease to our patients suffering from bruxism, injury or constant snoring. We proudly offer our services to the residents of Lakewood, CA and surrounding areas. Learn how you can benefit from an oral appliance.


What is a night guard?

Night guards are devices worn on your teeth to prevent contact with the opposing teeth. These protective devices stop the wearer's jaws from clenching or grinding while they're asleep. Teeth grinding usually develops from underlying issues, such as problems with jaw alignment or stress. Since most grinding and clenching occurs during sleep, patients typically can't control these actions on their own. If not corrected, bruxism can lead to broken teeth, cracked teeth, damaged restorations, temporomandibular joint disorder (TMJ), or even tooth loss. At Lakewood Dental Arts, we offer custom-fit night guards for patients in Lakewood, California who grind their teeth or clench their jaw at night.


What is a mouthguard?

Mouthguards also known as sports guards or athletic mouth protectors, are crucial pieces of equipment for anyone participating in recreational or contact sporting activities. Fitting snugly over the upper teeth, mouthguards protect the entire oral region from traumatic injury, preserving both the aesthetic appearance and the health of a smile.

The American Academy of Pediatric Dentistry (AAPD) advocates for the use of dental mouthguards especially for children participating in any sporting or recreational activity.


Here are the types of mouthguards:

Stock mouthguards: These mouthguards can be bought directly off the shelf and immediately fitted your mouth. The fit is universal (one-size-fits-all), meaning that that the mouthguard doesn't adjust. Stock mouthguards are less expensive, easy to fit, and quick to locate at sporting goods stores.

Boil and bite mouthguards: These mouthguards are usually made from thermoplastic and are easily located at most sporting goods stores. First, the guard must be immersed in hot water to make it pliable, and then it must be pressed on the teeth to create a custom mold. Boil and bite mouthguards are slightly more expensive than stock mouthguards but tend to offer more protection and feel more comfortable in the mouth.

Customized mouthguards: These mouthguards offer the greatest degree of protection and are custom-made by the dentist. The dentist will take an impression of your teeth. The impression is sent to a dental laboratory that specializes in dental appliances. Customized mouthguards are more comfortable, orthodontically correct, and fully approved by the dentist.


What is Sleep Apnea?

Do you snore loudly or wake up breathless in the middle of the night? Are you tired and drowsy during the day for no reason? If you resonate with either of those questions, you may be experiencing some of the symptoms of sleep apnea and may benefit with the use of a snore guard.

Snore guards, similar in shape and design to an athletic mouthguard, are meant to be worn throughout the entire night. The appliance is designed to hold the lower jaw in place, preventing it from opening in the middle of the night. People suffering from some types of sleep apnea often find their jaw opening, blocking their airway and making it difficult to breathe. Snore guards are quite effective and bring most patients the relief they are looking for.

Positive results from sleep guards include:

| | |
| --- | --- |
| • | Improved breathing |
| • | Reduced snoring |
| • | Less health risks associated with sleep apnea |

Not everyone who snores suffers from sleep apnea (and vice-versa), but these patients do still have a higher risk for developing this health problem over time. That's why we recommend that excessive snorers should receive treatment with a custom oral appliance. Doing so can improve your overall health and provide a better night's sleep.

Lakewood Dental Arts proudly creates custom snore guards for each patient. The design is meant to fit comfortably and ensure a great night's sleep.