Complications With Wisdom Teeth
Posted on 11/21/2022 by Evan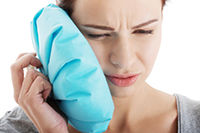 Wisdom teeth are the final molars to emerge and usually develop in late adolescence or early adulthood. Some people may receive two, while others may receive four, or none at all. Impaction is a disorder that occurs when the wisdom teeth do not entirely erupt through the gums. Wisdom teeth that have not been treated or extracted can cause inflammation, infection, soreness, swelling, pain, headaches, persistent foul breath, and other problems.


Causes of Wisdom Teeth

Wisdom teeth are the least necessary of all teeth, but their emergence can easily lead to a whole host of problems such as pain, overcrowding, gum disease, pericoronitis, and cysts. Wisdom teeth are the last to erupt and must work around the other teeth in the mouth, which can lead to crowding and the need to realign the teeth.

Also, some individuals experience severe discomfort from their wisdom teeth, which can be felt in the jaw, other teeth, neck, and even the skull. When wisdom teeth erupt, they can cause a condition known as pericoronitis, in which food becomes stuck between teeth and leads to discomfort, infection, facial swelling, and foul breath. Pericoronitis also leads to trouble chewing, biting, swallowing, or closing the mouth, as well as fever and loss of appetite.

Moreover, infections caused by problematic wisdom teeth can raise the risk of gum disease and hasten the breakdown of enamel, two symptoms of the disease. Extraction of the offending tooth or teeth and maybe others nearby may be necessary for extreme circumstances. Serious medical consequences may arise if the infection is not treated promptly.

Cysts form when the sacs next to your wisdom teeth become infected and fill with fluid, causing harm to your tooth's roots, surrounding tissue, and bone. Lastly, complications with the sinuses can arise because the roots of the upper wisdom teeth press on the sinuses, leading to congestion, sinusitis, and headaches.

If any of these issues arise as a result of wisdom teeth complications, reach out to us as soon as possible and speak to our dentist.