Why Impacted Teeth Are So Dangerous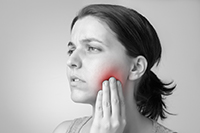 Impacted teeth occur when a tooth does not correctly erupt and gets lodged in the gum line. The situation can cause pain, and irritation and, in severe cases, cause tooth decay and gum disease. The best treatment for teeth is surgical removal by the oral surgeon under general anesthesia.


Impacted Teeth can Cause Gum Disease and Tooth Decay

Partially impacted teeth are susceptible to tooth decay. The partially erupted teeth are problematic to clean; thus, bacteria and food will be trapped in the gum. Bacteria and pieces of food trapped in the teeth socket will also cause gum infections and abscesses.


Damages Surrounding Structures

Infections on the impacted teeth can cause the formation of a cyst. The cyst will lead to more severe problems, such as damage to nearby structures. The impacted teeth will also cause overcrowding, making you vulnerable to gum diseases and tooth decay, and overcrowding will also cause the wearing of the enamel.


Impacted Teeth Cause Pain

Another significant side effect of impacted teeth is severe pain at the site. Pain occurs when the tooth tries to erupt through the gum tissues. In another instance, bleeding might occur at the site.


Bad Breath

Impacted teeth cause crowding of teeth which provide the best environment for bacteria to grow, leading to lousy breath. Bad breath will also cause other oral issues, such as tooth decay and gum disease. Early tooth extraction will help avoid such problems.


Difficulty Chewing Food

The teeth will have minimal space to erupt. Thus, the eruption process will occur at a very odd angle. You will experience pain and discomfort when chewing food in such a scenario. You will also experience a heightened sensitivity to cold and hot drinks and foods. The pain can either be sharp or simply a dull ache. Talk to your dentist if you have such issues for early treatment.