Restore Your Complete Smile With a Dental Bridge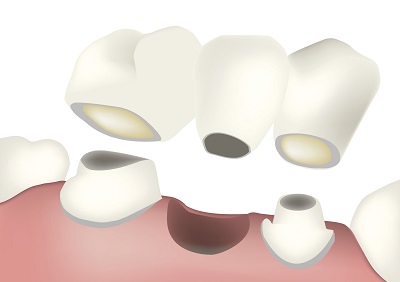 If you are no longer able to flash your best smile because of gaps between your teeth, now is the time to make a change. Getting a bridge custom made by us helps fill in the gaps so you can smile proudly with your complete set of pearly whites. Let's not forget the feeling of complete competence you get when you bite or chew on your favorite food. A dental bridge is a fixture used to replace one or more missing teeth.


Dental Bridge Treatment

A replica of the missing teeth made of ceramic or porcelain is fitted into the vacant space of your mouth. These new teeth are then capped with a crown and uses the two adjacent teeth as an anchor to hold the bridge in place. Since the bridge is fixed, you cannot remove it yourself. This process of fitting a bridge can be applied for up to three continuous missing teeth using the same technique.


Getting Used to a Bridge

Once fitted in place, the new teeth might take a few days to get used to. We recommend starting with softer foods to get a grasp of the bite and how comfortable you are using the bridge. Once you are confident about your teeth, you can eat whatever you like and there are no dietary restrictions associated with it. However, distributing the food evenly is something you may need to learn before you get back to your routine eating habits. To know more, and make an educated, well-informed decision give us a call and schedule a session for a complete assessment. This might help you make the best oral care decision and get back your lost smile. Bridge that gap and flash your beautiful smile all over again.