When Is It Time to Take Your Child to the Dentist?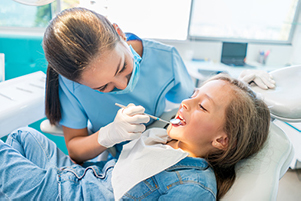 If you ask yourself when you should take your child to the dentist, you aren't alone. Most parents are unsure when to take their child to the dentist for the first time. Your child's first dental visit should be scheduled to happen within six months after they get their first tooth. When you go to your child's first dental visit, you will introduce them to the dental office and dentist, and they will learn how important it is to take care of their teeth. The dentist typically doesn't do an actual exam during the first appointment. They might take a peek inside your child's mouth to ensure their teeth are coming incorrectly and there aren't any current significant issues, but overall the first appointment is about awareness and trust. Establishing trust and building a relationship with their dentist is critical to help your child overcome dental fears later on and avoid dental anxieties.


After Your Child's First Dental Visit

After your child's first dental visit, they must visit the dentist every six months. When your child is ready for their second visit, this is when they will have their first oral exam. Typically, this will include counting their teeth and polishing and brushing them.


Full Dental Exams

By the time your child turns three years old, they will start receiving complete dental exams. During this visit, they will begin fluoride treatments. Your child will learn the importance of brushing and flossing their teeth thoroughly. This is when parents are asked to participate, so they can adequately brush their child's teeth at home. The dentist will also demonstrate how to help their child floss their teeth and teach them techniques to ensure their child is thoroughly taking care of their oral health. It is recommended that your child brushes their teeth for two minutes at a time. By the age of 5, your child will be old enough to start receiving x-rays.