What To Do In A Dental Emergency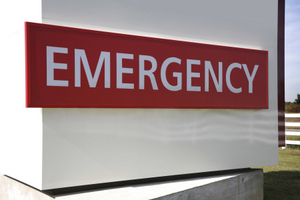 There are different forms and levels of urgency and severity of dental emergencies. For some people, the decision to visit the nearest dental emergency center lies on the degree of pain. If there is mild pain, some opt for a wait-and-see approach, only visiting their dentist when the pain becomes unbearable.

Best practices dictate that you visit a dentist as soon as you experience any dental trauma. Dentists may detect something that wasn't obvious to you, and save you from future complications.


What is a Dental Emergency?

According to the American Dental Association, a dental emergency is any probable life-threatening situation that requires immediate treatment to prevent or stop bleeding tissue or alleviate infection or severe pain.

These include profuse bleeding, soft-tissue infections, trauma involving facial bones, severe pain from a drying pulp, tooth decay, or post-extraction surgeries, loose orthodontic implants and wires, tooth chips and fractures, and foreign objects caught between teeth.

These may be caused by epilepsy, contact sports, car or work-related accidents, jaw joint pain, and inappropriate use of teeth such as opening bottles, cutting tape, and chewing hard objects.


What to Do in a Dental Emergency

The action you take in a dental emergency is informed by the type of dental emergency in question. Even so, you will still need to seek medical attention. Mild ones like mild toothaches can easily be treated by using over-the-counter painkillers. Serious ones such as tooth trauma, uncontrolled bleeding, and constant pain from post-extraction surgeries need to be addressed immediately. 

First aid for a cut or bitten tongue, cheek, or lip involves rinsing off the blood and controlling the bleeding by applying pressure using moist gauze or a clean cloth. If you have any of the dental emergencies listed above, visit our dental clinic as soon as possible.